TIFF 2022 Interview 'Project Wolf Hunting cast Director Kim Hong-sun, Seo In-guk and Jung So-Min'
Project Wolf Hunting was definitely the best midnight madness slasher to ever premier at the Toronto International Film Festival (TIFF). Project Wolf Hunting had its debut September 16, 2022 and it was highly praised by the fans, and with cast members Seo In-Guk, Jung So- Min and Jang Dong Yoon who attended the premier. We had such an honour to interview some of the cast and the director prior to the film release. Sitting in a quiet hotel room, with a translator on site,  I was able to speak some Korean and Director Kim Hong- Sun, Cafe Minamdang's Seo In-guk who plays criminal Jong Du, and Playful Kiss' Jung So-Min who plays a cop were full of smiles and laughs as they made their first visit ever to Toronto.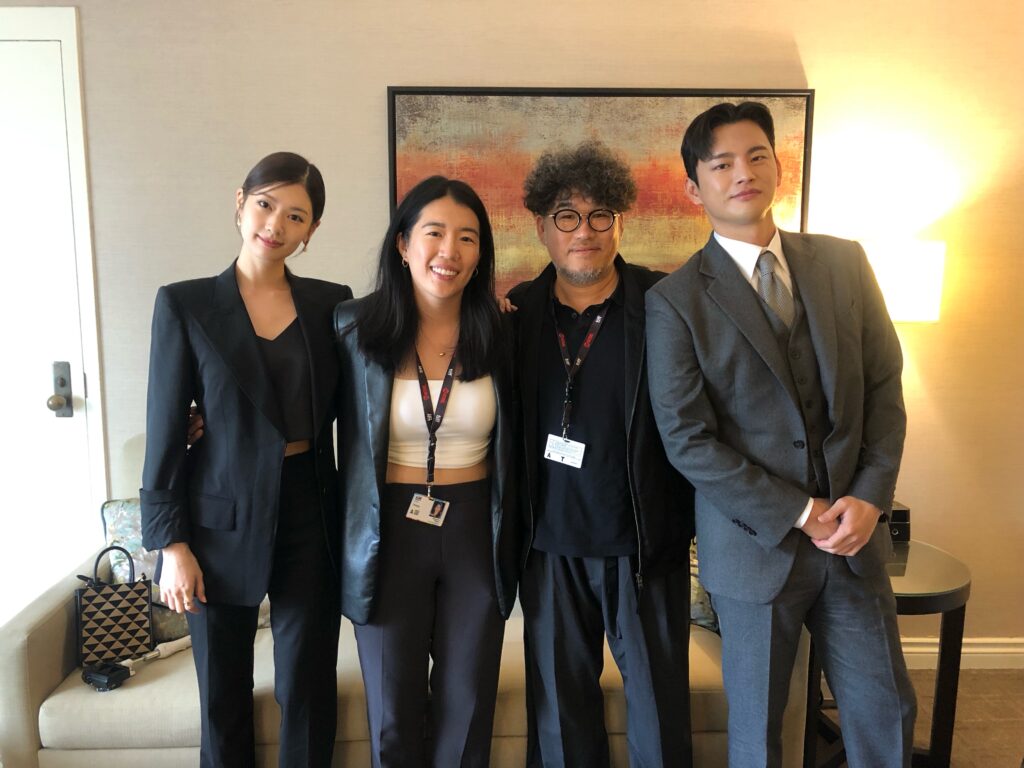 We asked how the film came together and how Seo In-Guk and Jung So-Min were chosen for their roles. 
Kim Hong-Sun : I always wanted to an action film , so I wrote the script, and erased it, wrote the script and erased it, then in 2017 there was real event where criminals who had fled to the Phillipines were actually transferred back so that got me thinking about this script. So when I was thinking about the character Jong-Du , I thought of Seo In-Guk and how he would be really good at portraying that character, and I didn't even think how busy he might be or if he would even have the time to do this. It turned out the producer of the film was actually close friends with the rep of Seo In-Guk management company and that's how we were able to get in touch, and I was able to give him the script that way, and he read it very quickly and the response was positive. He portrayed the character even better than on the page. For Jung So-Min, I had given the script to her management company who also manages her schedule and at the time, and Jung So Min was actually looking to participate in a project with action, grit, etc. Jung So Min normally participates in romantic comedies, and she's so lovely and cute and always portrays those characters very well but in order to change and portray a characters thats more a tough and brave , she put a lot of work into it and she it so well.
I feel like Korean film ares becoming so mainstream in North American and they're so different. What's the one thing you want the audience to take away from a Korean slasher film?
Kim Hong-Sun I think the gap between Korean cinema and North America cinema is closing and closing, there's not much anymore. I think the kind of culture that's portrayed in the Korean movies is well understood by all generations, especially the younger generations. It's a common language of cinema these days, movies like Parasite and TV Drama Squid Game , everyone's watching it. There's not much difference I think.
So question for Seo In-Guk, Jong Du is so different from your character in Cafe Minamdang as Nam Han-jun, how did you prepare for this role?
Seo In- Guk : Even before when I was asked in interviews what kind of genre I wanted to do, or what kind of characters I wanted to challenge myself with, it was like action films, specifically the bad guy or movies like that. So when I came across the script, I really thought this is exactly what I wanted , it kind of feels like faith like the script God made it's way to me.
And what about yourself Jung So Min, I'm not sure if you've done anything like this before. What was your prep for this role?
Jung So Min: This was a first time, a new kind of challenge for me to act in a film like this. But I was actually really thirsty for it , So I'm really glad that I was brought to participate. And before on my own when I used to prepare for characters , I used to do a lot of preparation on my own, it was a solitary kind of process. But this time around, because of the character background and her story was so detailed and there was so much of it, there was process of really working with the director and having many meetings to discuss the character in the work, so that was a little different process for me.
Kim Hong-Sun: She's a very good translator *As we all shared some laughs and applauded the translator
What is the big takeaway you want viewers to grab when watching Project Wolf Hunting?
Kim Hong-Sun : The film was originally made for Korean audience, but I'm hoping that the Canadian audience just the same as Korean audience gets to feel the whole atmosphere of this specific Korean genre film, the music, the music, production design, the music, the performances these actors give. I just hope they get the same kind of cinematic experience I was hoping the Korean audience would get.
Check out the trailer for Project Wolf Hunting below
Well GO USA release Project Wolf Hunting to North American theatres October 7, 2022.