Basecamp Suites Canmore review : Why we think Basecamp Suites is one of the best hotels at Canmore
If you're looking a place to stay in Canmore that's well worth the price; Basecamp Suites is probably one of the best hotels at Canmore for its value
Canmore is known for its scenery and the perfect vacation spot away from hot spots like Banff, but the town is quickly becoming a primary destination where visitors can experience everything a town has to offer and the serenity of the mountains. For myself personally, being in Canmore is like being in Banff but with less people and being closer with the mountains. If you plan on visiting Canmore, there are many great accommodation options, but one we found was particularly amazing was the Basecamp suites. For the price, value, location, it's definitely one of the best hotels at Canmore.
A night stay at this beautiful condo costs about $169.00 on a weekday for a One bedroom Apartment and up to $350 for weekends/bigger rooms. It comes with a fully equipped kitchen, bathroom including laundry, internet, free parking, toaster, french press coffee maker, and the gorgeous hot tub. We break it down by each component and explain why we think Basecamp suites is one of the best hotels at Canmore.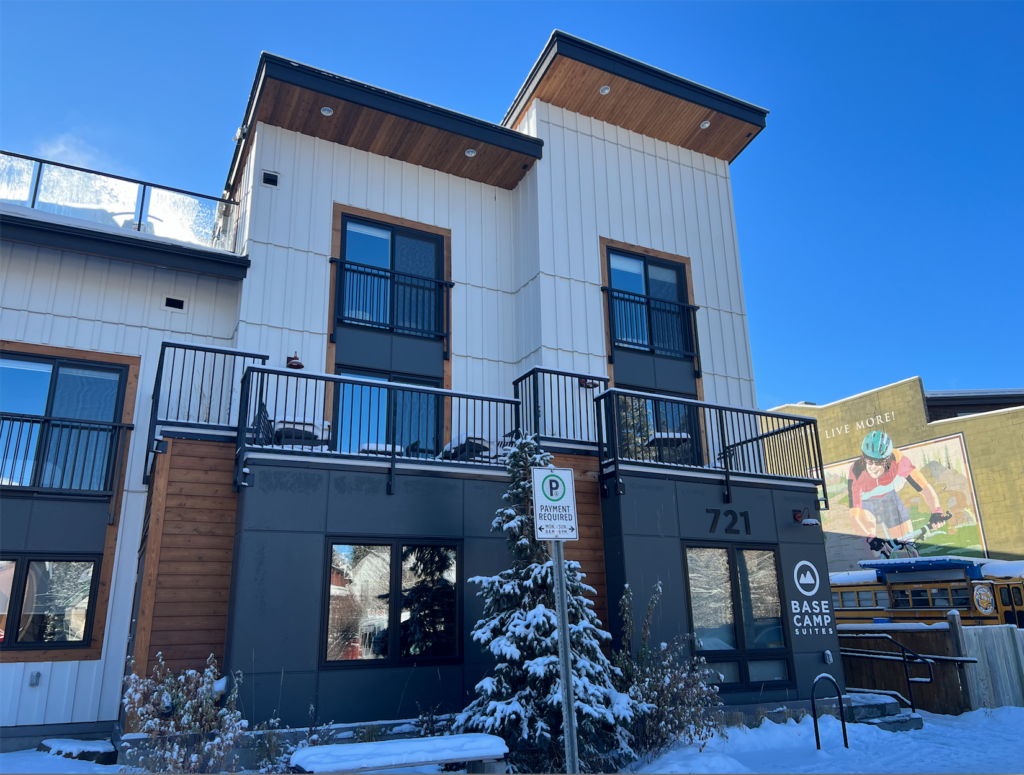 Location
The location is prime. Right in the heart of Canmore, with the most beautiful mountain view, and only a short walking distance from coffee shops, restaurants, vintage shops, I honestly don't think you can ask for a better location. There is also one free parking space included with your stay.
Virtual Check-in
A pretty neat feature with Basecamp properties is that check-in is done virtually. Before your stay, you get emailed a pre-arrival check in form with a personal door code. Super easy and smooth transition, and even though this property didn't have a front desk (thankfully we never needed one) they always had the option to send a quick email, text, or call and someone would be shortly over from their other property LampHouse.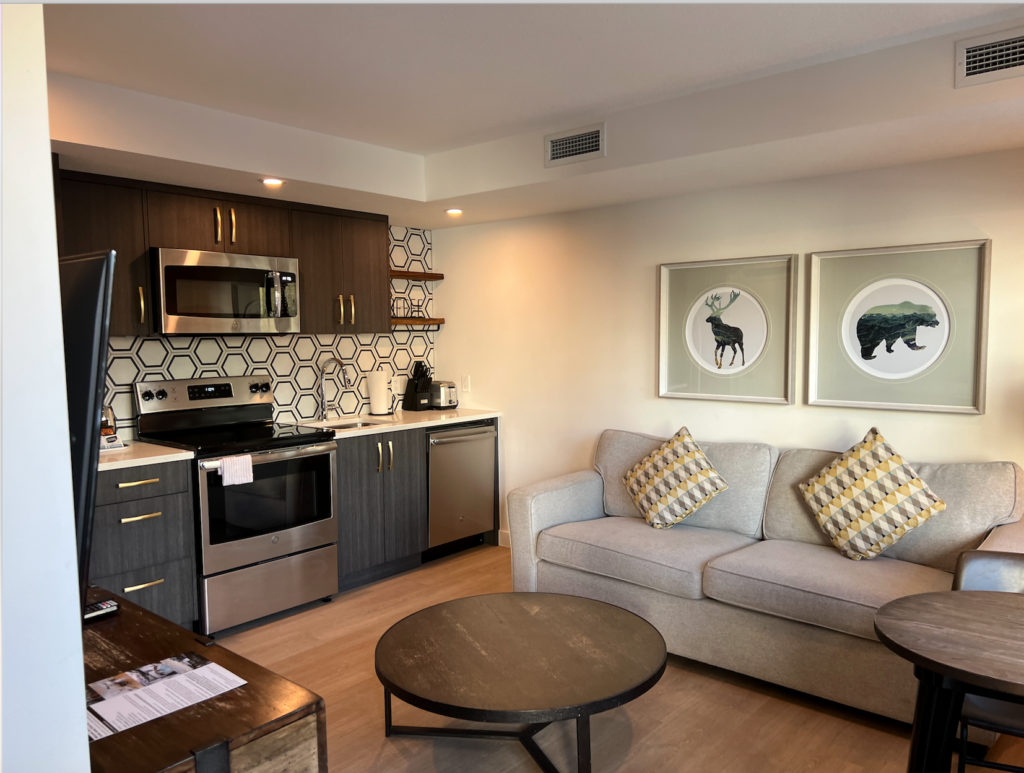 Amenities
One of the best parts about the space was how 'condo-like' it was. The kitchen had literally everything from pots and pans, cooking oil, cutting boards, measuring cups, electric kettle, toaster, french press, dishwasher, a giant fridge, and pretty much everything a kitchen can offer. On top of that, the washroom was fully equipped with Rocky Mountain Soap and Lotion, Shampoo, Conditioner, body wash, hair dryer, and even a Laundry wash and dryer with pods.  The living room had the iron board, a flat screen LED TV, and great internet. It even comes with a luggage rack (the small things matter).  The bedroom has a full Black out curtain so that you get the best sleep possible.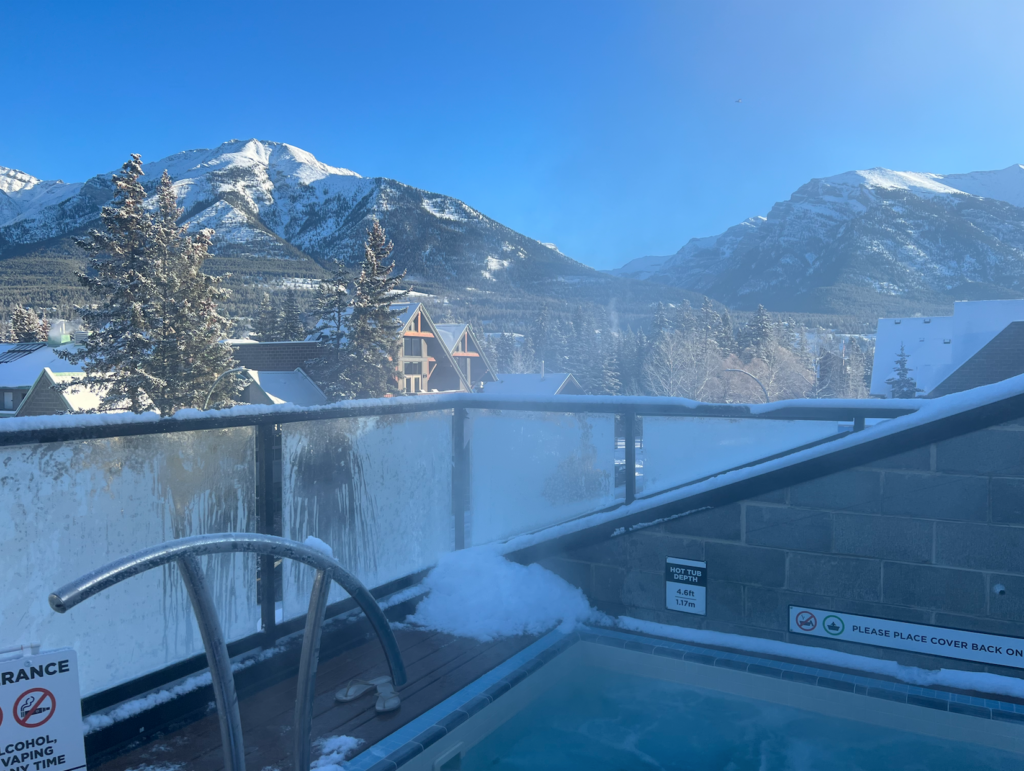 Hot Tub
The most unique thing about Basecamp and making it one of the best hotels at Canmore would definitely be the hot tub.  Each room comes with Hot tub towels which you can take up to the third floor and enjoy the mountain view right in the hot tub. You can set the Jet timer and the pool is open from early morning to late night so you can enjoy the beautiful mountain and night stars.
Overall Thoughts
I definitely think you get the price you pay for. Especially for those who want more of a home-like stay. I personally enjoy having the kitchen because a lot of hotels around Canmore don't have that option, unless you grab an Airbnb. You'd pay possibly less, but you wouldn't get the beautiful hot tub view which I think was such a nice bonus.  They also have a 10% off on your first stay if you sign up for their exclusive monthly newsletter.
Here's a video showcasing some of the amenities and why Basecamp Suites is one of the best hotels at Canmore
To check out what else Basecamp Resorts has to offer, check out their website here