We're Not Really Strangers game review: A purpose driven game all about empowering meaningful connections.
You might have come across We're Not Really Strangers game (WNRS) on Instagram or Twitter, a platform created by Koreen to bring more meaningful connections in everyday life. This especially applies to everyone stuck in quarantine right now and human connection is now more important than ever. Thankfully, there is a card game created by WNRS to change all that, a game created to empower meaningful connections with others.
Take it from me, I'm surrounded by people all the time due to the nature of my job but each and every human connection barely hits beyond surface-level conversations. How many times do you ask someone "How are you?" and really mean it? How well do you really know the people closest to you?
This game was designed to create meaningful connections with strangers or build ones you already have with friends. This is typically ideal with a date or anyone you really want to get to know better. Everyone is isolated right now due to COVID-19, and many of us are scheduling video chats with our friends but running out of things to talk about. So why not start with an isolation game?
The We're Not Really Strangers card game has 3 levels, each with wildcards and a dig deeper card which are meant to encourage transparency if you feel your partner is holding back.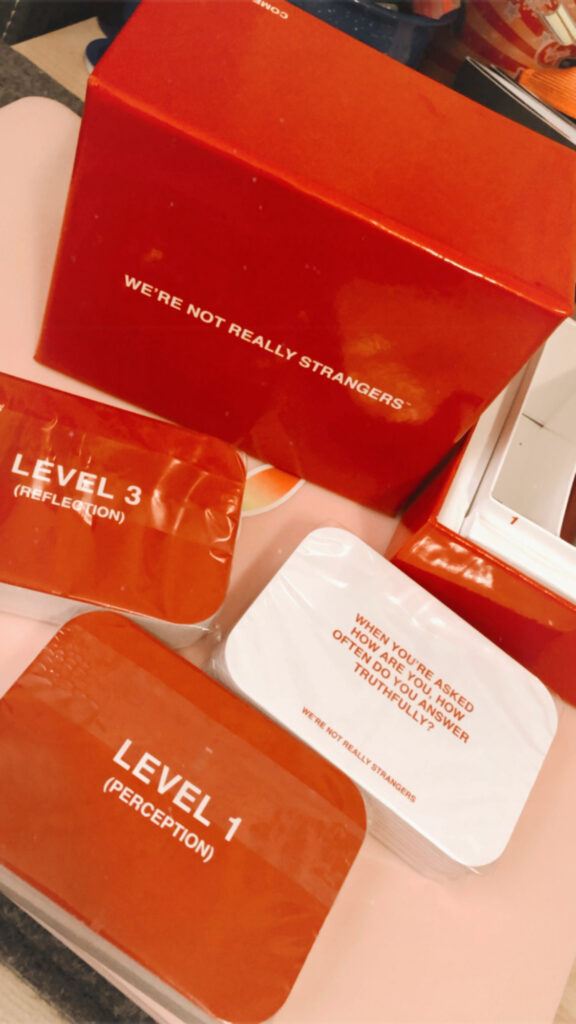 Starting with level 1( Perception)
This works best with people you barely know aka Strangers! These questions are meant to see what first impressions you give off and how well you read others.
Example question: Do I seem to like more of a creative or analytical type? Explain?
Once about 15 cards minimum has been played for each level, you can advance to the next level.
Level 2 ( Connection)
These are rarely asked questions that are meant to deepen your existing relationships.  (These questions get real deep, and I 've seen many people break out in tears)
Example question: What are you trying to prove to yourself still?
Level 3 (Reflection)
Time to reflect on your game experience
Example question: Based on what you learned about me, does my social media accurately reflect who I am? Why or Why Not?
Final Card
My favourite part. Each player gets to write a note to each other and fold and exchange at the end of the game. Then you're supposed to only open it only once you two have parted! How cute!! It feels like those love letters people used to pass around in school.
The card game costs about $30 USD with a $15 international shipping cost, which is about $63 in Canadian. In my personal opinion, it's worth it if you're willing to hunch a bit of money.
If you need more convincing, check out this cute video WRNS put together on two strangers playing the game for the first time!
You can order the game on the We're Not Really Strangers website here 
Let us know what you thought of the game below!