Review 'Are we not drawn onward to new erA'
I feel very fortunate to have seen A LOT of theatre in my life, and I like a lot of what I see…except when it comes to modern/experimental theatre. I don't know what it is, but it just doesn't grab me as 'traditional theatre' does. So when the opportunity came to see. 'Are we not drawn onward to new erA' presented by the Canadian Stage, I thought I would give it a shot. I walked into the theatre expecting just another piece of modern theatre, trying desperately to validate their art by trying to "make a point", but I left absolutely blown away.
 Let me get right to the point: this show is incredible. 
'Are we not drawn onward to new erA' created by influential Belgian company Ontroerend is making an incredibly brief stop in Toronto for three nights only. Their show tackles the heavily discussed topic of the environment using incredibly precise choreography, the use of projections, and a wildly talented cast to pull it all off.
 If you are wondering why the title seems odd, it's because it is a palindrome (that is when a word, phrase, or sequence that reads the same backward as forward). The program stated that "Like its title, this performance is a palindrome", which I thought was an interesting concept, but how could it be possible? Could we actually see this play unfold in both directions the same? Well, I would argue that the piece isn't actually a palindrome, but uses the concept to unpack the messages in the piece effectively and beautifully. I must admit, the first few minutes of the piece felt slow and drawn out, leading me to question my choice in coming to the show, but soon we are introduced to a colourful cast of people, and some rather odd choices being presented to us: a person destroying a live tree on stage, flooding the stage with plastic bags, even putting up a statue of a person who I would assume did some shady/nefarious things in the past. Even the movement and the language felt odd. The energy and the tempo picked up as the show progressed, and elements of the piece were indeed beautiful like when the performers filled the stage with smoke, but I was only invested in it because the whole time I kept thinking, 'I wonder if this would work backward. We as an audience saw this group of people basically destroy what would have probably been a wonderful greenspace.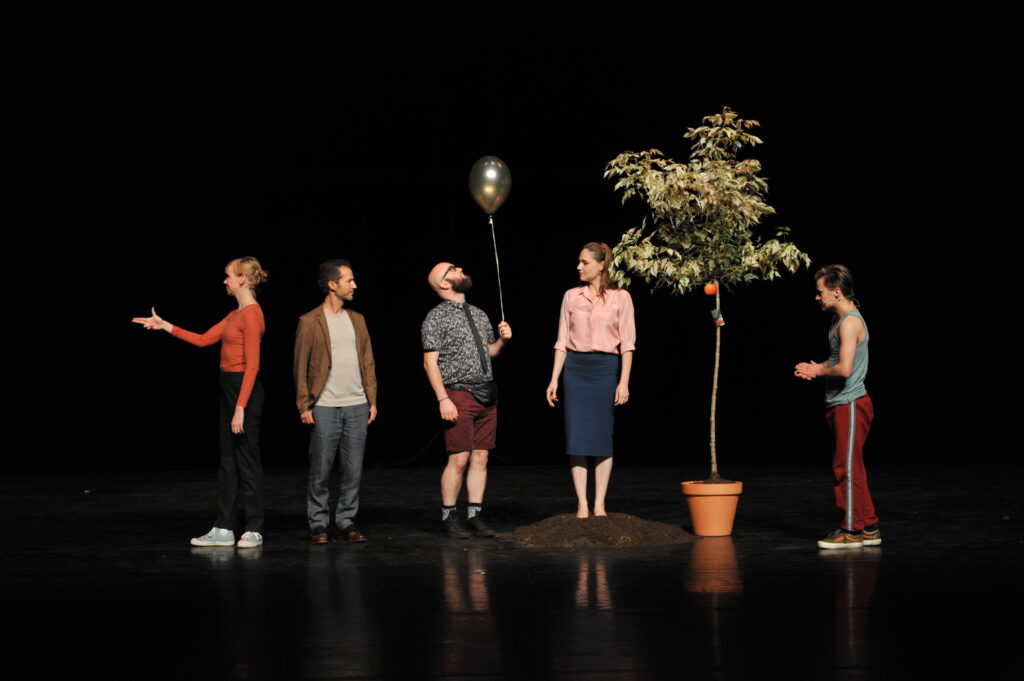 You could tell that the piece from the get-go was about the environment, and how our choices affect the green spaces we are privileged to have, but the message was sort of lost amongst all the chaos presented on stage. 
However, at the halfway point of this one-act performance, we got to experience something magical. We got to experience the palindrome.
 Now, in an average review, I'd probably go ahead and spoil HOW we experienced the shift, but I honestly don't want to ruin the experience for anyone. The moment the "second act" began, I think I audibly gasped; I was incredibly moved by what we were witnessing in front of us (mainly because, to be frank, I just didn't expect it). All of a sudden, it all made sense: the erratic movements, the garbled language, the destruction of what was presented as 'nature', all of it.I have to give so much credit to this incredible cast, for taking such intricate, detailed choreography and text and presenting it flawlessly. What they did was NOT easy, and I commend them for a stellar performance. 
The messages in the piece were simple but effectively told: it is our duty to own up to our mistakes and fix them, small actions can have massive consequences (both positively and negatively), and above all, there is no such thing as 'the impossible'. I think this last point is especially important, because oftentimes when we talk about the environment, we're often told we can't fix our mistakes and that the task is a futile one. Impossible. I would argue however that this piece encourages us to dash away with what we think is impossible, and just try to do our part and take responsibility for our actions and choices. 
'Are we not drawn onward to new erA' has an incredibly short run in Toronto, and if you appreciate theatre half as much as I do, you are going to want to run and grab tickets to this incredible production before it hits the road. Again, I feel incredibly privileged to have seen it, I really hope that all my future experiences with modern/experimental theatre are as positive as this one was!
Watch the trailer for Are we not drawn onward to new erA
Are we not drawn onward to new erA will be playing at the Bluma Appel Theatre for an exclusive 3-night, 4-show engagement February 9-11 
Tickets can be purchased here
[Review by Shan Fernando]