'Cabaret Noir' is a fascinating exploration of what moments, words, and people shape what it means to be black
Does 'blackness' have a definition, or does it vary from person to person as it does from medium to medium? Co-presented by The Canadian Stage and Dance Immersion, this one-act piece uses the written word, music, movement, and theatre to explore how 'black' has been depicted and defined by a wide assortment of people.
 I was impressed by the performers overall; from the first moment of the show, you could tell they were dedicated to unpacking the concept of 'blackness' with full authority and intent. There were some absolute gems in this show, right from the beginning where one by one, each cast member read pieces of books and poems in both English and French from influential black authors like Mya Angelou, Fredrick Douglas, and Barack Obama or that discussed black rights and issues well before it was seen as the "cool thing to do" like To Kill a Mockingbird and Black Like Me. For me, this extended moment symbolized the power of words, and how they could empower people to make change, and open their minds to the truth of how others around them may or may not have been treated. Though simple, it laid down an excellent foundation for what we were about to see. 
For those who have never been to one, a cabaret is an assortment of performances be it music, dance, acting, or tribute to other performers (like when people perform in drag) but all presented in one show, and that's exactly what we were treated to. The cast of six moved seamlessly from one piece to another, each telling a uniquely different story. One of my favourite pieces was what I am going to call a tribute to Muhammad Ali, where we saw Anglesh Major expertly shadow box to a recorded interview the champ gave long, long ago. Another very moving piece was performed by Vlad Alexis, where the performer shared a series of racist, and homophobic remarks in a few different languages, but the way it was presented, I'm not sure if it would be remarks made by other people, or ones someone who was conditioned by society to hate themselves would say in a mirror. Either way, I was moved. 
The cast even collectively presented dialogue from an actual Canadian television show from the mid-1980s called, "He shoots, he scores" which chronicled a fictional hockey team in Quebec. However, in the scene they depicted (which the text was taken word for word from the show) we see two white hockey players treat a young, black girl in a physically and sexually abusive way, constantly reminding her that she was less because she was black. I really and truly hope that this moment was seen as one of disgust by the audiences at the time, but to be honest, I wouldn't bet money on it, and that was really the point of segments of the show like that: it made us  question, as an audience, why these horrifically racist depictions were seen as acceptable and maybe even "normal" in society?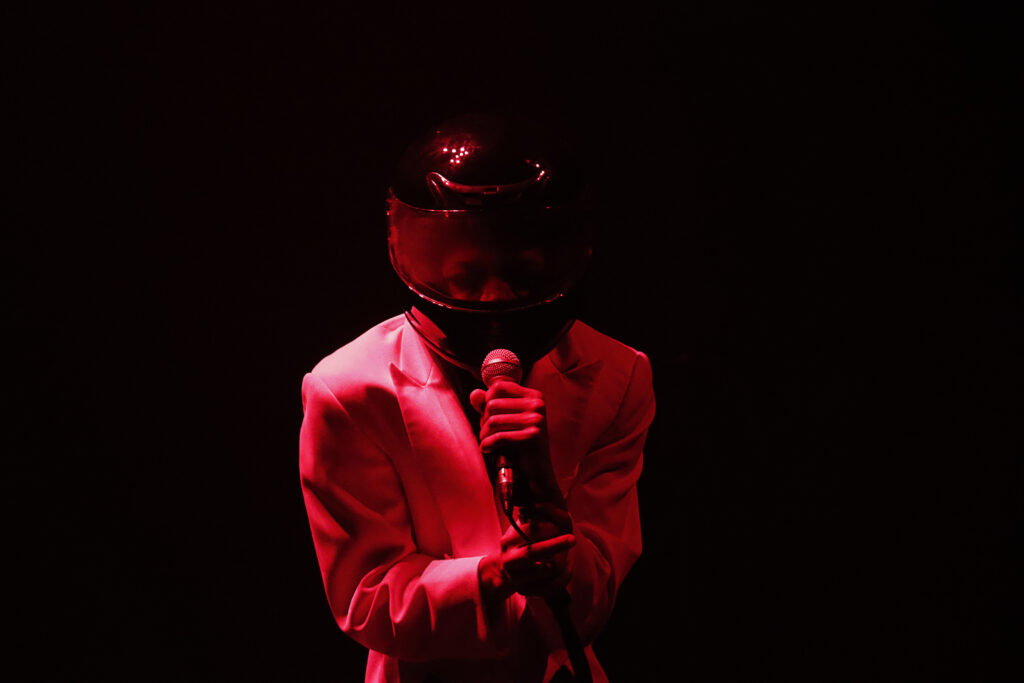 I only really have one major criticism of the show, and that has to do with the lighting. There were some majorly strong LED stage lights that pointed right into the eyes of the audience, effectively blinding us and leaving us unable to watch the pieces presented comfortably. One of those said pieces was performer Stacey Désilier krumping to Kanye West's Blood on the Leaves which I literally couldn't watch for more than a few seconds because it hurt my eyes way too much, which is a shame because Désilier, from what I could see, is a talented dancer and deserved to be seen. The same thing happened during the conclusion of what I'm going to call 'The trial of Othello', where Florence Blain Mbaye and Anglesh Major rapped and sang with power and passion, but again, I couldn't watch it. My friend who joined me at the end of that piece leaned over to me and said, "I really liked that, but I couldn't see a damn thing!" Sadly, the choice in lighting really took away from these pieces, and I would encourage the lighting designer to tackle this issue for other cities. 
Overall, I believe Cabaret Noir is an excellent exploration, celebration, and even at times criticism of what defines 'blackness'. It is an analysis of culturally significant moments, media, and people that shape and cultivate aspects of black identity.
Watch a preview of Cabaret Noir below
Tickets for Cabaret Noir range from $29-$79 and production runfs Feb 9-11 with performances 8:00pm Thursday-Sunday.
Tickets can be purchased here
[Review by Shan Fernando]