TIFF 2023 Review "Concrete Utopia"
Concrete Utopia Unearthed: Exploring Human Nature in a Dystopian World Post-Disaster
Concrete Utopia from Director Um Tae- Haw, delves into the transformative nature of human behavior within a dystopian setting following an earthquake disaster. The narrative unfolds in a dystopian landscape, featuring central characters Min-Sung (Park Seo-Joon) and Myung-hwa (Park Bo-Young) who, against the odds, survive in one of the few remaining structures—the apartment complex. As the film progresses, we witness the initial panic and struggle for survival among the diverse group of survivors. However, they ultimately unite, realizing the necessity of collaboration to navigate their newfound reality. They nominated resident, Yeong-Tak (Lee Byun Hun) who chosen for his heroic actions during a fire rescue, propels the storyline forward.
The film swiftly evolves as the building transforms into a cohesive unit, exploring themes of human selfishness and the shift in values under the pressures of survival. The cinematography, coupled with the emotional depth conveyed by each character, immerses the audience in the dystopian experience, prompting contemplation on moral decisions—whether to prioritize the greater good or individual preservation.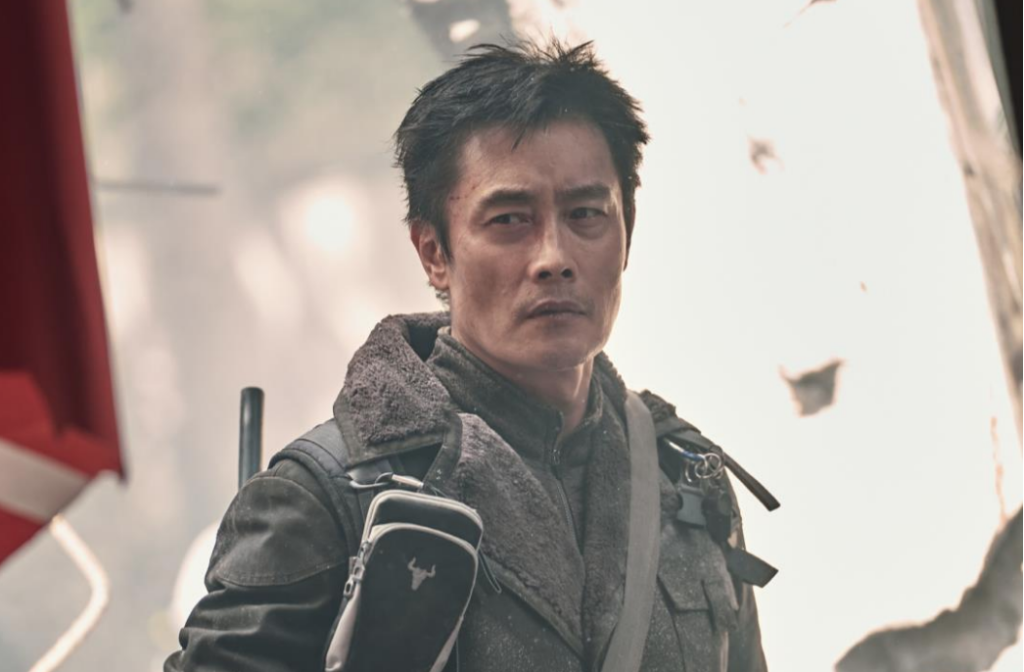 Lee Byun Hun's portrayal adds layers to the narrative, skillfully illustrating the dynamics of societal systems in crisis. From his protective instincts to the gradual influence of power, his character reflects the complex consequences of transformation. The film strategically reveals the hidden dark side of the chosen leader, embodying the overarching theme of how individuals change amid crises.
In summary, Concrete Utopia masterfully explores the dichotomy between kindness and human selfishness within a gripping, disturbing, and powerfully depicted representation of society. It stands as an excellent disaster film, compelling viewers to ponder the choices people make when faced with adversity.
Watch the trailer for Concrete Utopia below
Lotte Entertainment and 815 Pictures release Concrete Utopia in theatres in New York and Los Angeles on Friday, Dec 8th, and Nationwide starting Dec 15, 2023
Concrete Utopia had its North American premiere at the 2023 Toronto International Film Festival on Sept. 10
South Korea has selected Concrete Utopia to compete for Best International Feature Film at the 2024 Oscars.