Tapestry Opera's ROCKING HORSE WINNER
The Opera is something that I feel like most people won't ever give a chance to see, or would even want to see. People always think it's always one thing: a long, drawn-out show sung in another language that is never accessible to them financially. I have seen my fair share of operas in the past, but I've never seen one sung in English with so much packed away into just one hour before. Rocking Horse Winner Presented at Crow's Theatre however does an amazing job in changing what we expect opera to be. 
Presented by Tapestry Opera in association with the Streetcar Crowsnest Theatre Rocking Horse Winner, directed by Michael Hidetoshi Mori, is a modern adaptation of a short story written by  D. H. Lawrence of the same name. This one-act, 60-minute opera offers an intimate, psychological look at love, luck, greed, and obsession.
Before I get into my review, let me just share that before the show started, my friend and I were sitting in the front row because she has accessibility issues and can't really do stairs. Seeing this, director Michael Hidetoshi Mori came up to us and offered us seats with him so that we could watch the full show without having to strain our necks looking up at the set. Even though we didn't accept his offer, the fact that he came down and checked in with us because he wanted everyone to see this show comfortably meant a lot to me.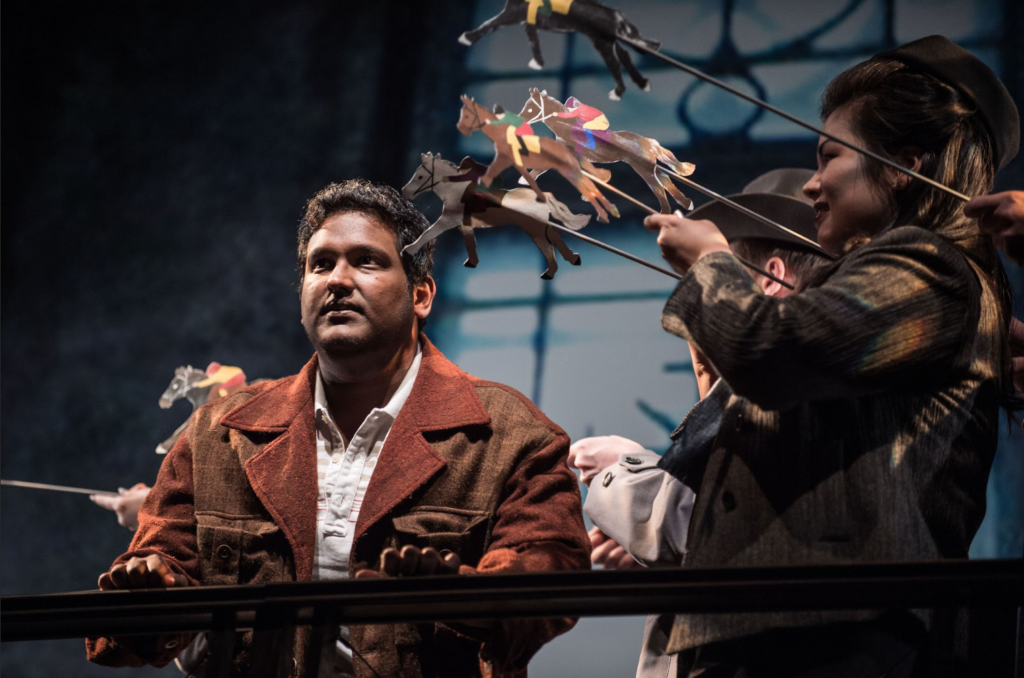 The show right off the bat was presented in an interesting format, with the actors giving us the prologue of the piece behind a curtain, almost as characters in a cuckoo clock. We meet a woman named Ava (Lucia Cesaroni), mother of a boy named Paul, and a person who who presents herself as "unlucky" because she never has enough money to maintain the lifestyle she wishes to have, especially after her husband, (Paul's father) disappears from the picture (I assumed he passed away, but it's not explicitly said). Paul (Asitha Tennekoon) only has one wish: to see his mother smile and be happy, but he doesn't know how. He hears his mother singing about being unlucky, so he tries to ride his rocking horse to "luck" to help his mother. As he rides his horse, he discovers the name of the winner of an actual upcoming horse race, an incredible feat. 
At first, the only person who knows Paul's secret is his caregiver, Bassett (Peter McGillivray) who makes bets on Paul's behalf and stores the winnings safely. When Paul's uncle Oscar (Keith Klassen) discovers that Paul is capable of nothing short of a miracle, he sees it as a way to become filthy rich himself. 
As the opera progressed, I found that my heart broke for Paul. All he truly ever wants is for his mom to be happy and to smile, but even when he's able to generate a lot of money for her (disguised as basically stock earnings) instead of being happy, Ava says, "It's not enough. There has to be more". Ava's character is fascinating, drinking and buying expensive things to fill a void in her heart that was most likely created after her husband died, leaving her in a tricky situation. I can tell you first hand as a child who saw their parents suffer from addiction and mental health issues, all you ever want is for them to be happy, and to finally be satisfied with what they have. However, the idea of having enough in these situations is just that – an idea. Just like for Ava, those who have a void find themselves always trying to fill it. 
What I also find interesting was trying to figure out Paul's age. The actor is a fully grown adult, but does an EXCELLENT job playing a child. However, there are small comments made that suggest that Paul is actually older than we might think, and suffer from developmental issues. At one point for example, there was a comment about basically putting Paul in a special home, and Ava liked that idea now that she was getting closer to the lifestyle she desired. 
Her son's rocking causes Ava stress and headaches, and even though it is the sole reason for her wealth, she doesn't know it, and she feels like he needs to stop. However, Paul doesn't stop, basically rocking on his horse with energy, and stress, and power, so much so that he basically has a heart attack and dies trying to fulfill his mother's desires for more. 
All the performers were incredible, but I wanted to send a special shout-out to Midori Marsh, Alex Hetherington, Anika Venkatesh, and Korin Thomas-Smith who played an assortment of characters, but are credited as "The House". Their makeup was spooky and almost ghost like, and clown-like too, and even more interesting, we don't see them in their full form until later in the piece; we just see their silhouettes and hear them singing in the background. However, they also echo the thoughts of the inhabitants of the house: That there must be more, and there is never enough money. 
The cast members all have incredible voices, but for me, Tennekoon stands out. He is a Sri Lankan singer, and let me tell you, as a Sri Lankan myself, there aren't many of them out there in the world of Western art, let alone in opera. Getting to see him perform with such power and precision was an absolute treat, and I will happily support him in many more productions down the road. He makes you fall in love with Paul, and has you feel heartbreak over, and over again. Kudos to you Asitha. 
The orchestra, though a small one, was mighty. They were able to perfectly capture the emotions in every moment, song, and scene. 
Rocking Horse Winner is a lot of things: thought provoking, haunting, moving, and beautiful. However, in it's core, it's a reminder of what a good, modern opera can look like. This city needs more opera, especially one's like Rocking Horse Winner. I hope that you all get a chance to see this wonderful production before it closes, but if not, keep your eyes on both Tapestry Opera, and the Crowsnest Theatre, because both of these companies are constantly creating new, exciting pieces, and I can't wait to see what's next! 
Rocking Horse Winner will be playing at the STREETCAR CROWSNEST until Nov 12,2023 
Tickets can be purchased here
[Review by Shan Fernando]