IF THE PHRASE 'BOYS WILL BE BOYS' WAS A MOVIE, IT'D BE FAST X
The tenth installment in the Fast and Furious franchise zooms into theaters this weekend and with a healthy dose of fun, faith and family. Vin Diesel returns as the titular Dominic Teretto and he isn't the only familiar face to hit the screen this time around. Like most of the other films in the franchise, the ensemble cast in Fast X is stacked with what seems to be almost every working Hollywood actor. Joining Diesel on the screen is Charlize Theron as Cipher, Brie Larson as Tess, John Cena as Jakob, Jason Statham as Shaw, Ludacris as Tej, Tyrese Gibson as Roman, Sun Kang as Han, Michelle Rodriguez as Letty… the list goes on. For those looking for a fresh, original and realistic movie to watch this weekend… you might want to screen Guardians of the Galaxy or The Super Mario Bros. Movie. But for viewers looking for over-the-top action, wildly outrageous stunts and Diesel outrunning explosions while defying the laws of physics… well, you're in luck! Fast X has all of those things and more.
Over the last few decades, the Fast and Furious franchise has exploded into a massive empire that clearly has no plan on hitting the brakes. In fact, Fast X makes a tremendous effort to set up countless new storylines by the film's end. Every character has their own cliff to hang off of, most notably of which is Toretto's own uncertain fate. Toretto embraces his role as a father in Fast X as the film attempts to tackle the idea of legacy and honor. In contrast to a lively antagonist played by Jason Momoa, it's evident that Toretto is meant to represent everything our society tells men they should be: tough, confident, faithful and invincible. Although Dom isn't exactly toxically masculine, there's little room to argue that he isn't the embodiment of what most men think they should be. With muscles strong enough to lift a car with one arm, racing skills that can outrun literally any other motorized vehicle known to man, being an honorable father figure and having a global reputation for being an absolute bad-ass… the creators of the tenth installment make it clear that Toretto is the staple for penultimate manhood. Oh! And he saves the Vatican from being blown to bits. Can someone say Saint Dom?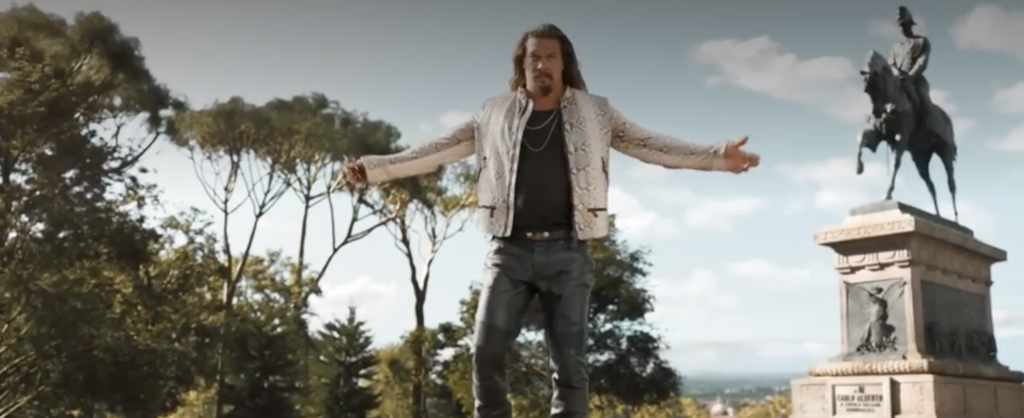 As for the plot of the latest film in the franchise, it feels as though the only aspects that differentiate it from its predecessors are its setting and circumstances. Viewers looking for something fresh and original will leave the theater hungry so it's best to go in knowing exactly what to expect. Fast X fails to deliver something new and innovative, although fans of the franchise will most definitely enjoy this wild ride. Fast X spends most of its time referencing its past entries, specifically Fast Five, and for the rest of the movie takes an Infinity War-style approach in exploring its character journeys. The movie tosses its net quite wide, following different characters across different stories in different countries all with the clear intention of bubbling up towards a climactic reunion in what we can only imagine will be a third movie in the Fast X trilogy. Although the action is high octane (seriously, Dom is pulling helicopters with his back bumper and using them as weapons against the bad guys!) the heart of this movie lives in its standout characters: John and the Jasons.
Jason Momoa plays the antithesis of Dominic Toretto and everything we already outlined that Toretto represents. While Toretto is meant to be the ideal man, Momoa's character Dante is a flamboyant snake-skin wearing queen who loves ballet and paints his toenails. Ignoring the evident pro-religious undertones in how these characters were molded, the contrast between them makes for an entertaining dynamic. Momoa arguably carries the movie on his back, stealing every scene he's featured in and encouraging the audiences to laugh and have fun despite the high stakes our heroes are met with. He's hilariously vibrant and spends the entire movie leveling up to new villainous heights. He's a tonic on screen and impossible to not watch, transcending his role as comic relief and becoming a genuinely great villain.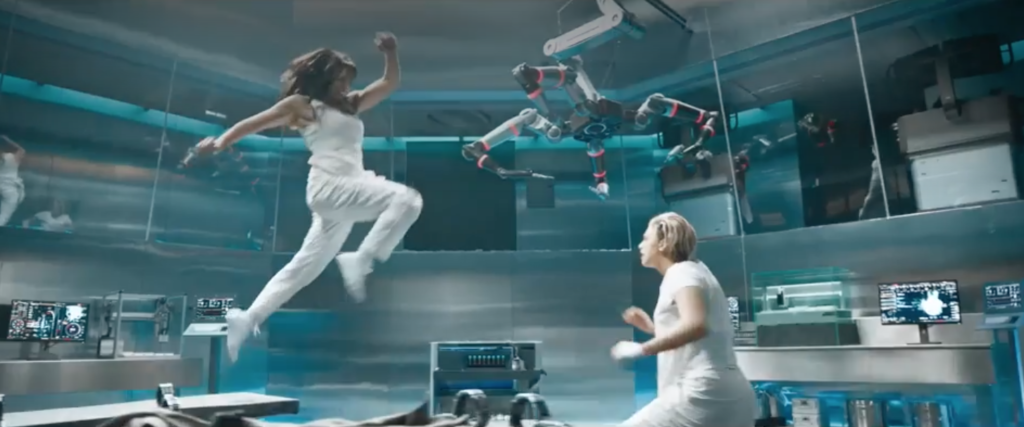 Another standout character has to be John Cena's Uncle Jakob, who (like Dante) spends the movie sauntering around like a wolf in sheep's clothing—or rather, beachwear. The comedy in Cena's role comes from similar roots as Momoa's, as he's introduced this round during a bombastic cut throat sequence of violence and action but continues the film walking around in toe sandals while watching the Minions movie. He's hilariously soft and squishy, while also capable of mowing through an entire team of mercenaries in order to protect Toretto's son, Little Brian. Their dynamic was our favorite thing to watch unfold on screen. The entire movie could've followed Uncle Jakob and Little Brian's adventure to get back to Dom and we all would've been happy and endlessly entertained. Lastly, Jason Statham makes a brief appearance as Shaw (only to set up later plot points for the next Fast film) and reminds us that although the badass one liners uttered by the cast often fall flat and feel cheesy, there's no one who can pull them off quite like Statham. Let's dig some graves!
Ultimately, this movie is a trunk-load of fun and brings action. You may find yourself rolling your eyes at the chintzy moments speckled amongst the fire and explosions, but fans of the franchise will know what to expect going into this film and will undoubtedly enjoy it. Fast X is a wild ride, but judging by the ending (and the post-credits scenes) it's definitely not the last Toretto and his team will race.
Watch the trailer for Fast X below
Review by Guest Blogger Jurgen Sosa