JUNGLE BOOK REIMAGINED by Akram Khan
Jungle Book reimagined
When I was a kid, I fell in love with The Jungle Book (probably because of my love of animals). The Disney adaptation of Rudyard Kipling's classic story is probably the first that comes to everyone's mind, including myself, and those who watched the movie and fell in love with it as a child probably saves a small piece of it in their hearts. When I saw that the Canadian Stage was bringing in a dance-based piece telling a reimagined version of The Jungle Book, I knew I had to see it, but I also knew that my expectations were going to be a little higher than average. To my delight, those expectations were exceeded. 
Akram Khan's internationally acclaimed production of Jungle Book reimagined is set in the distant (or maybe not so distant) future, where climate change has destroyed the earth and is wreaking havoc on humanity. Very early in the show, we see the rising of water/oceans causing people to flee in search for higher ground. An array of once-captive animals break through their captivity and now have to figure out how they are going to live with each other, and what sort of priorities they have.
Other than gender-swapping Mowgli, and not having her grow up with animals, but to be discovered by them, is hits all the plot points you would expect to see in a production of The Jungle Book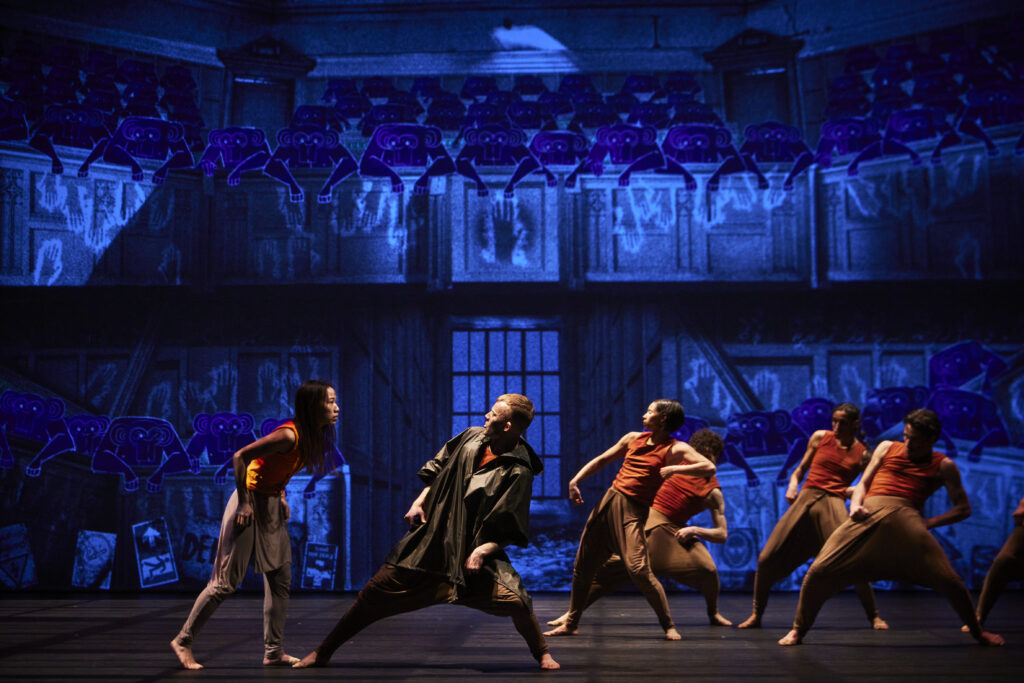 This show was very impressive from the start, utilizing projections to tell elements of the story that can't easily be demonstrated on stage (how else would you show an entire population of people fleeing massive flooding on shipping containers?). The two layers of projections mixed with a minimal set gave a lot of space for the performers to utilize the stage to set many, many scenes. 
Bringing the animals to life was also an interesting challenge, one which was mostly solved by the immense dedication of the performers. I loved how the dancers moved with such precision to embody the characters, with personal highlights being the actor who played Baloo, a former Russian dancing bear from a circus, and the monkeys. There was a scene where Ka the snake, cleverly created by cardboard boxes, hypnotizes a bunch of monkeys for a feast when she can't get Mowgli. 
I also really appreciated that even though this was heavily a dance piece, there was recorded narration throughout so that most members of the audience could fully grasp/appreciate the show in its entirety. Dance shows aren't always accessible to younger audiences, and when they are, adults sometimes struggle to keep up. In this case, it truly was the best of both worlds.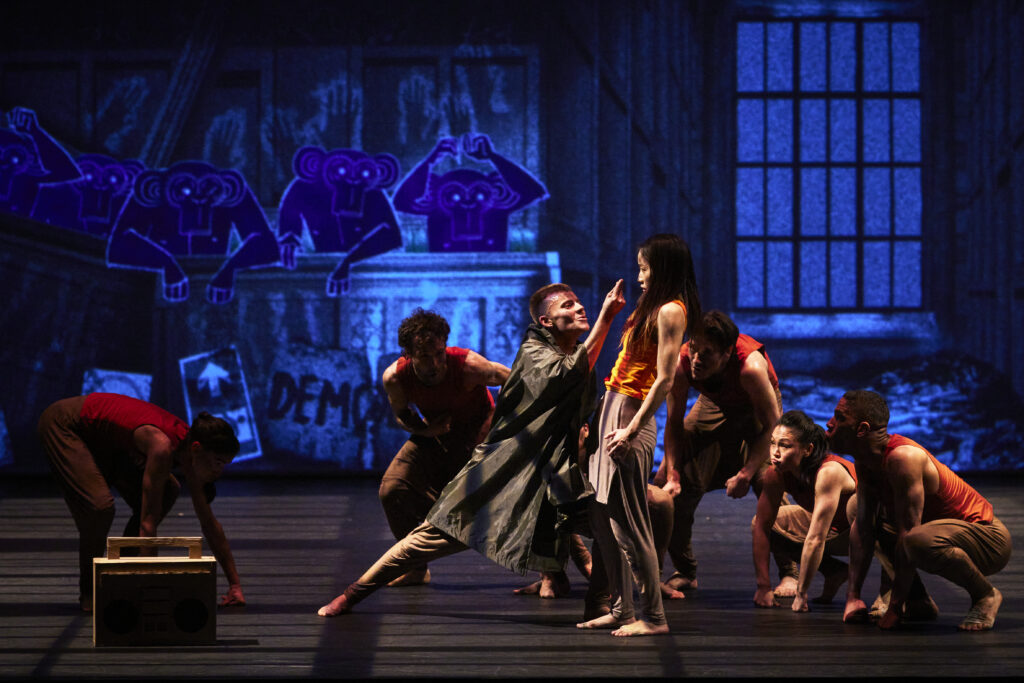 The only thing missing was the Tiger Shere Khan, but instead replaced with an even more evil creature: a man with a gun. At first I thought it was odd, because the animals make such a HUGE deal that Mowgli is a human, almost as if there hasn't been a human in their presence for a long time. The hunter character felt a little out of place, but in keeping with the theme of humans destroying nature for greed, it makes sense. People hunt and kill beautiful creatures for nothing but the thrill of it all the time, so it makes sense that a cord-blooded hunter would see the opportunity to kill rare animals as a positive one, and not go out searching for higher ground like the rest of the population. I must say, the death of the hunter was not only beautifully done, but incredibly satisfying. 
In the end, Mowgli chooses to leave this place that she has clearly fallen in love with, potentially risking her life to do so, which left me wondering: why? She was accepted into a safe space  and could, to some extent, communicate with the animals. Why risk her life to find people again, when the chance of finding her own family was presented as slim to none? I believe that she left to ensure that the atrocities she witnessed and lived through first hand are never repeated. Throughout the play, Mowgli's mom kept repeating that she was to lead their people, but I think that's also a call-out to all of us. We all have it in our power to look at climate change and do something about it. It may be risky, and may be dangerous, but we know it's the right thing to do, as did she. 
This truly was a wonderful production. Magical from the very first moments to the very last. It's truly a shame that it was such a short run, but if you ever get a chance to see it again, I would highly recommend it! 
The Jungle Book Reimagined performance will be on stage for a limited time from Oct 12-14th at the Bluma Appel Theatre
[Review by Shan Fernando]