A Reimagined 'Rock of Ages' Opens in Toronto
The 80s have returned to Toronto, and it's calling all fans of classic rock to 'have their faces melted off'. 'Rock of Ages' which is playing at the Elgin Theatre in the heart of Downtown Toronto until May 20th, 2023 features iconic 80s chart-topping hits, and focuses on a cast of characters who are falling in love, chasing their dreams, and trying to understand the true meaning of what makes them happy, all while never forgetting to live that rock-and-roll lifestyle.
Part rock concert, part theatre, the newly 'reimagined' production (produced by More Entertainment) delivered on its promise to blow us all away. The vocal performance and dance abilities of this cast were outstanding (but what do you expect when cast members have come from other huge shows like 'Come From Away', 'Jersey Boys', 'The Book Of Mormon', 'Mamma Mia', and more) and not for a moment did the show felt like it dragged on. From the first few moments of the show, the audience was bobbing their heads, clapping along, and transported us to a time and place where sex, drugs, and of course, rock and roll reigned supreme. 
I was really quite impressed with the staging and lighting design of the show. The designers utilized LCD screens placed strategically throughout the set to not only serve as backdrops but to add dimension to the numbers. Paired with pyrotechnics, lasers, and an array of concert-style lights, every number felt like its own production. 
I feel like a show like this has so much working for it, but I have to give credit to Choreographer Sean Cheesman, Music Director Mark Camilleri, and a host of other designers and creators for bringing such strength to the creative process of the show (because trust me it shows). However, none of it would have been nearly as cohesive and solid if it weren't for Director JP Gedeon who seamlessly brought all the elements together. You could tell he put a lot of love and care into the show and allowed the performers to discover their characters authentically. 
I feel the urge to shout out literally everyone in the cast (including the band) because there wasn't a weak member in the group, but there were a few stellar, stand-out performances that I definitely wanted to highlight. Leads Trevor Coll (Drew) and AJ Bridel (Sherrie) were absolute powerhouses. Trevor at one point held a note, and did a run with it for, I swear to you, a minute. That may not sound like much, but trust me when I say, when you're belting *in key*, that's difficult. Jonathan Cullen's performance of Stacee Jaxx was not only hilarious but also incredibly sexy. Tyler Pearse had been bursting out laughing with his playfully flamboyant character Franz, while Saphire Demitro (waitress #1) reminded me that you don't need a big part to absolutely steal the spotlight. Every single performer on that stage embodied their character, but most importantly, they looked like they were having the best time.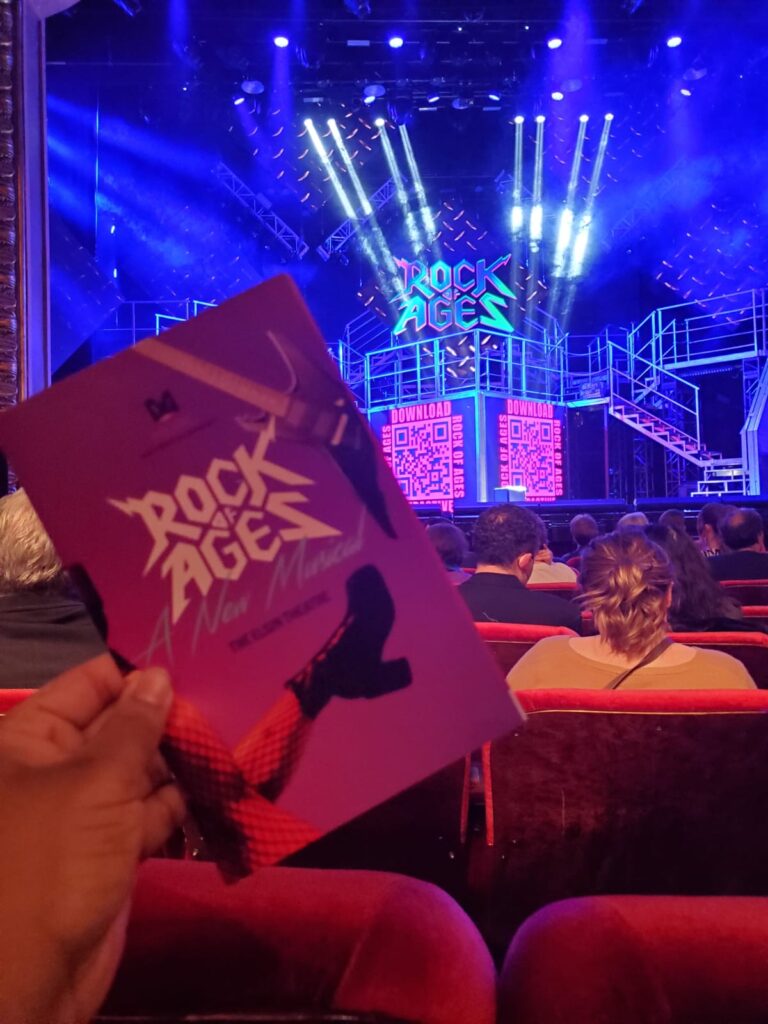 The comedy of this show was so well delivered by the entire cast, and didn't feel forced or "phoned in". I did expect to laugh, but what I didn't expect was to be moved. This show had an absolutely beautiful version of "Every Rose Has Its Thorn", with all the lead characters looking to their lost dreams and loves moving the number. I never thought that a Poison song could make me feel emotions like that, but that's what this cast is able to do. Shout out to the Ensemble in this song for singing gorgeously off-stage for this one. 
Now, if you are thinking of seeing this show, let me give you one piece of advice: don't expect much plot. Yes, there obviously is a plot but it's honestly quite thin. This isn't exactly new information, in fact, they actually poked fun of that in the musical, but I could see a person being let down if you were expecting a jukebox musical with a massive plot, like '& Juliet'. However, that shouldn't stop you from seeing this show. Go in with the hope of a good time, because trust me, you'll find it. 
Overall, I absolutely loved this production. If you grew up with, or are just a fan of 80s classic rock, or just looking to have a good time, you're going to want to get tickets to this show. The show is cast exquisitely, performed with extreme love, and has fun stitched in every moment.
For tickets and more info, visit the website here
[Review by Shan Fernando]