The latest thriller from writer / director M. Night Shyamalan, Glass is the final instalment in a trilogy that also includes Unbreakable and Split. Picking up where the previous two films left off, Glass follows the heroic David Dunn (Bruce Willis) as he finds himself imprisoned in the same mental institution as the monstrous Kevin Wendell Crumb (James McAvoy) and the villainous Elijah Price (Samuel L. Jackson). Each man believes himself to have superhuman abilities, a delusion that psychiatrist Dr. Ellie Staple (Sarah Paulson) hopes to cure them from.
With Glass, Shyamalan crafts a finale that seamlessly blends his previous films in an organic way. Although it's been almost 20 years since we last saw David and his son Joseph (Spencer Treat Clark), Shyamalan updates the characters for a modern audience, making sure that where they are in Glass is a natural progression from where we left them in Unbreakable. Our re-introduction to the Dunns quickly establishes who they are, and what their motivations are. It's so much fun to catch up with David and see him as a full-fledged vigilante, now going by the name, "The Overseer." Willis plays David with hardened conviction, effortlessly stepping back into the role that changed the superhero genre. He's older and more grizzled for sure, but David's heart and morality are as strong as ever. It's just as entertaining as seeing Elijah, known to the world as "Mr. Glass," use his brilliant mind to hatch dastardly schemes, even from the confines of the mental institution. Jackson delivers the same level of menacing unpredictability as he did in Unbreakable, but adds a fresh layer of pain to the character that comes from having spent the last two decades locked away.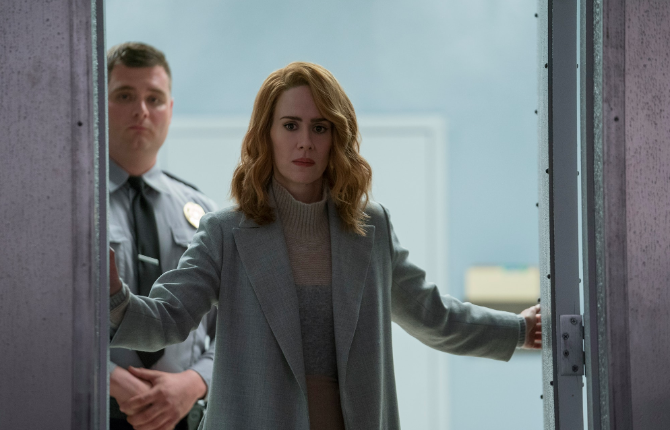 That same character establishment is done for Kevin, last seen in Split. Watching James McAvoy perform this role is like watching a master-class in acting. How he's able to juggle 14 distinct characters is beyond astounding, and each unique characterization makes for a performance that as a whole is delightfully weird and creepy. McAvoy should not only be praised for his incredible performance(s), undoubtedly the film's best, but he should also receive credit for the wonderfully wacky bits of comedy he's able to inject into this two-hour drama. Though they're few and far between, the movie's handful of comedic moments are actually laugh-out-loud funny. I'm not saying Glass is the next Bridesmaids, but considering how dark and tense the tone of the movie can get, seeing McAvoy occasionally act like a love-struck nine-year-old is a welcome reprieve.
Glass is not a perfect movie. For starters, the runtime is about a half hour too long. I fear that's the price you pay when you try to squeeze two movies worth of characters into a finale. This slows down the plot as each character attempts to get the time in the spotlight they rightfully deserve. The abundance of coincidences will have you rolling your eyes, and the editing is far from great. Again, there's so much of this movie that could have been cut, making the movie flow more cohesively. Shyamalan is great at writing dialogue, especially for his villains, so it's a shame to have that be lost in a lengthy runtime.
That being said, there's still a lot to like about Glass. The three main actors are at the top of their game, each delivering one of their best performances in recent memory. Shyamalan expands the incredibly fascinating world he started 19 years ago and provides a fitting end for its heroes and villains. With Glass, Shyamalan has once again created a grounded and introspective look at superheroes, putting a fresh spin on modern cinema's most popular and profitable genre. Whether you're a fan of Unbreakable and Split or not, Glass is a thought-provoking and entertaining movie-going experience that is guaranteed to thrill and chill.
Universal Pictures releases Glass in theatres on Friday, January 18, 2019
[Review by Luke Elisio]