CanFitPro World Fitness Expo inspires healthy living
On Saturday, August 15, 2015 I got the chance to swing by the CanFitPro World Fitness Expo held at the Metro Convention Centre in the Expo Hall. This trade show is Canada's only international fitness conference that attracts anywheres up to 1200 people per day. When I arrived the hall was bustling a diverse collection of fitness experts.
Naturally I went straight to the food court, there wasn't that much there for a vegetarian. After giving up quickly I browsed through the many booths on site. The first booth to catch my eye was the one featuring the Lebert Fitness Training System. Here I got to demo three pieces of equipment. The Spring Resistance Barbell is a barbell, well with springs in it, so that when you use it you can activate more muscles and get more resistance with every rep, because science. Then there was the Equalizer that resembled those parallel bars in children's playgrounds, but portable. Here you can workout your entire body using your bodyweight as resistance with pull ups, dips and the many types of pushups. Their third equipement demo was called the Buddy System. They are suspension type straps that you use with a buddy, hence the name, in different types of moves. Its great for your core and stability training and you can change the tension (resistance) when needed.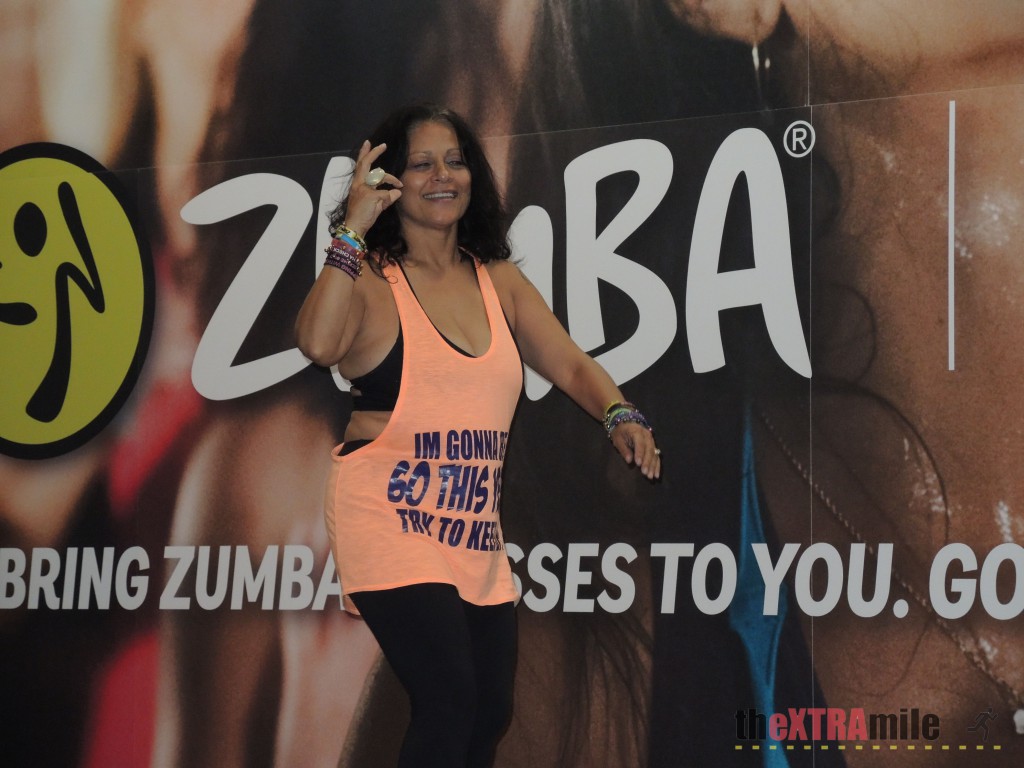 After walking around some more I followed the music coming from the corner of the room to find a Zumba demonstration. As soon as I reached there, everyone dispersed. It was break time and they would be back in ten minutes the instructor told me. Well I've heard of Zumba before, but never seen it in action. It's a dance fitness class that makes working out fun. For more information the instructor directed me to Zumba.com where you can look up classes in your local city, download workouts online and buy DVDs and Zumba equipment.
My most favourite exhibit was the slacklining one. Three years ago I watched a documentary called I Believe I Can Fly (Flight of the Frenchies) that introduced me to the slacklining concept. I've only seen one slackline in real life at Kits Beach in Vancouver, so it was cool to see it being demoed on top of Expo Hall. The professional performed many tricks. It looks like a fun way to build up your core and stability muscles. He managed to catch the eye of many people in attendance flipping upside down and doing a suspended plank. *sigh, maybe one day I'll be that fit.
Close by the slackline exhibit was a demo of the Johnny G In-Trinity Board by Matrix. The hourglass shaped board is on a slight slant for movement below the board to allow users to train more deeply using a combination of yoga, martial arts and body weight type exercises. The In-Trinity program comes with straps to provide resistance and stabilization, allowing for more challenging movements; martial arts training inspired sticks to work on your balance, improve hand-eye coordination and reaction time; and two DVDs. One dvd for orientation and the other featuring a workout with an audio track meant to stimulate concentration and memory. It looks expensive.
One of the last demos I watched was the Plyoga Fitness class. Its combines plyometrics and yoga moves together. Plyoga is high intensity, but modifiable to fit any fitness level. Benefits include: increased cardiovascular strength and endurance; noticeable growth in muscles, durability, agility and flexibility; better core strength; a more balanced body and mind; and a better looking body.
Well all of this fitness exposure really got me inspired to start getting back into shape again. So far this week I have been to the gym once, ran twice, running up to 5k once and will be capping the week off with a yoga session. Not to forget I started drinking my two green smoothies a day again, but yet still have to start juicing. Baby steps. One day I will be like the guy on the slackline.
To learn more about CanFit Pro, visit their website here!